商品説明
Tokyo Koenji Awaodori is one of the famous summer festival in Japan.
The first celebration dated back in 1957 at the Koenji area in Tokyo. Every year,  millions of spectators come to Koenji to enjoy the spectacular performances of more than 10,000 Awaodori dancers. In 2017, it will be more magnificent than before as more than 11,000 dancers are expected to join the performance. And now is the chance that you can be part of this exuberant Japanese traditional festivities!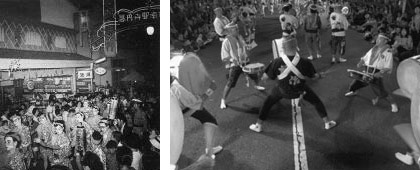 It takes only 9 minutes by train from Shinjuku Station to JR Koenji Station. Koenji is well known for its music and vintage clothing. Second-hand clothing stores and music venues dot the area. Koenji,a place attracting people from all over the world, also has many bars and restaurants with more than 200 places with English menus now. You can also spend your time here leisurely before the limited offer of Awaodori begins.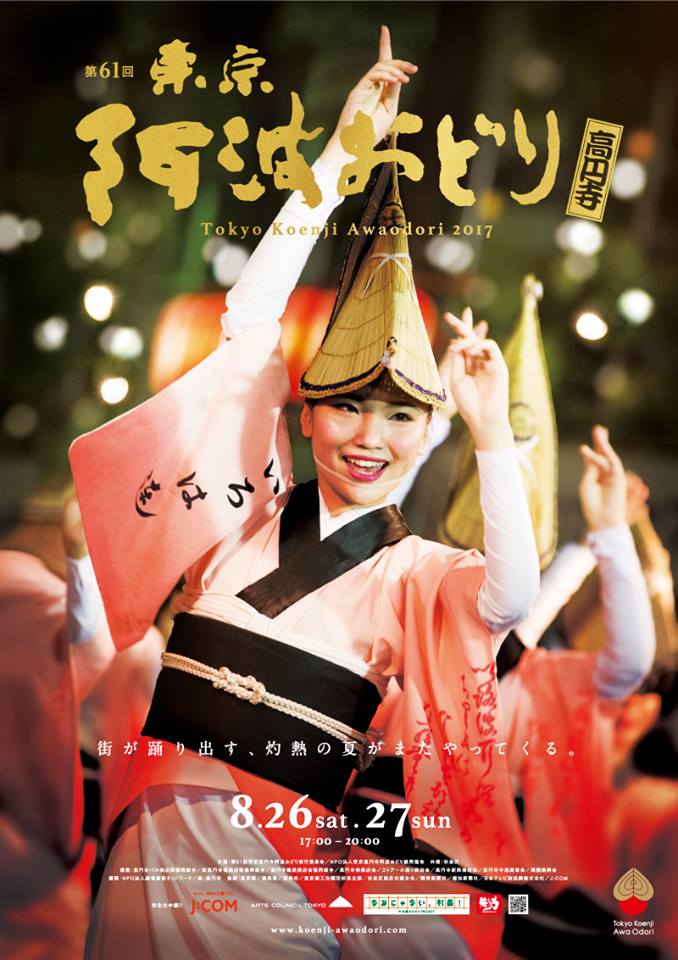 This year we have prepared a limited offer only for foreigners. Things you can experience are 1)  join the festival parade as a one-day Japanese traditional dancer (with workshop and traditional clothing(Happi));  2) to get a special seat near the stage, which even the locals here have slim chance of getting it!.
Highlights:
Be a one-day Japanese traditional dancer in the Tokyo Koenji Awaodori (Otoko-Odori, male dancing part is also available for female)
Get the limited seat tickets near the street stage.
Experience the biggest traditional Japanese summer festival in Tokyo
English and Chinese guidance included in all the plans
Special ticket to enjoy the stage performance of Awaodori (only in the 1 day plan)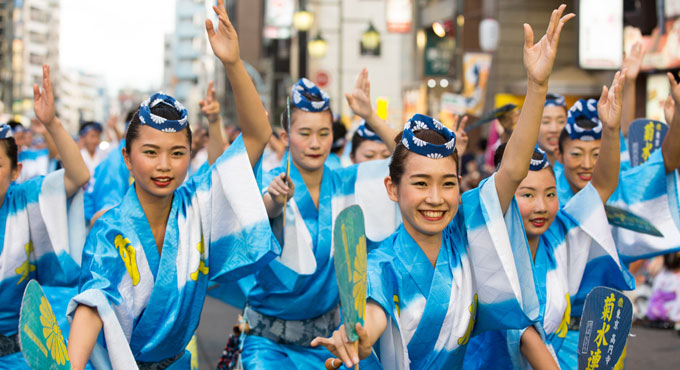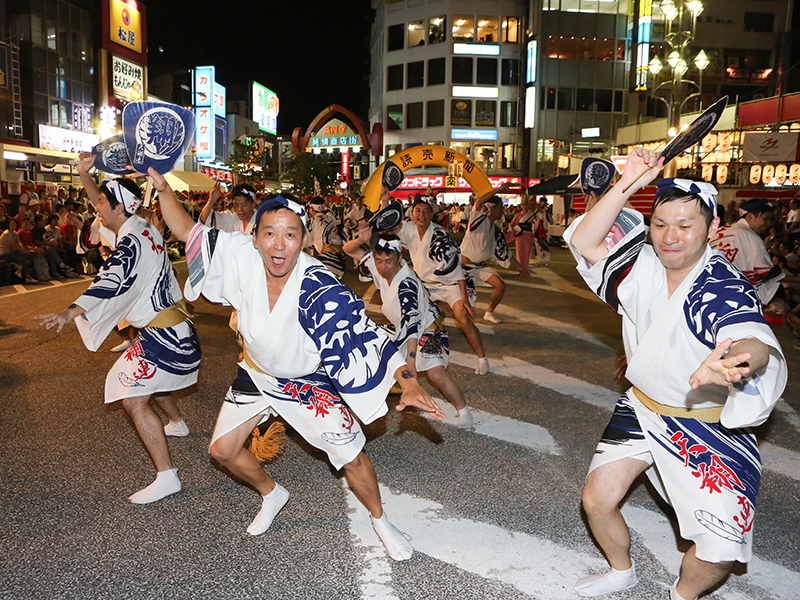 Every year, as soon as seat tickets are released for Japanese people, it gets sold out very quickly! But this year, we have reserved special seats only for foreign visitors! We guarantee that you can not only see Awaodori from the very first row, but also have the chance to be a one-day Japanese traditional dancer dancing around the shopping arcades. Come and have a deep cultural experience in this historical Japanese summer festival!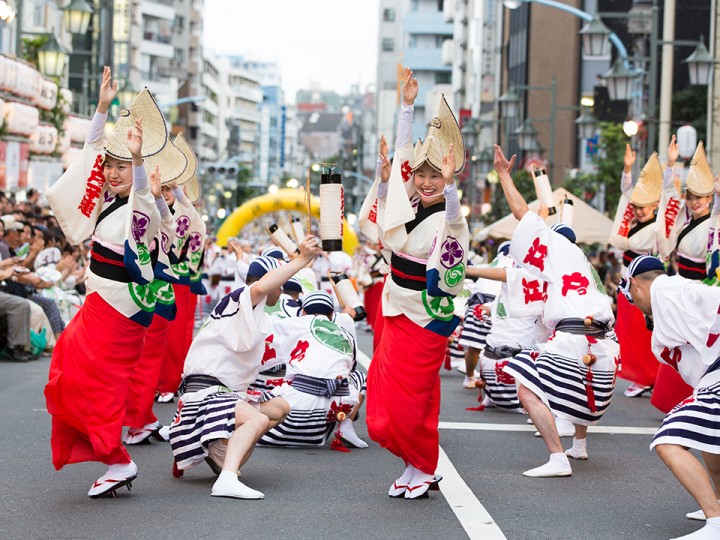 Before you seat yourself to watch the Awaodori, you will first  join a Ren (group) to learn how to dance Awaodori from the performers. On top of that, you will even have a chance to dance with the parade of Awaodori, which is hard to join even for the Japanese!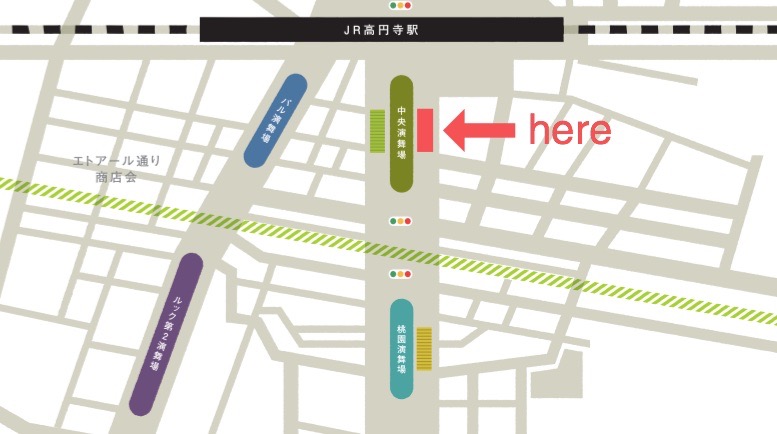 The limited seats are marked as red block near the street stage.
Meeting point:
1 day plan: Higashi-Koenji Station, exit 1 (Metro Marunouchi Line)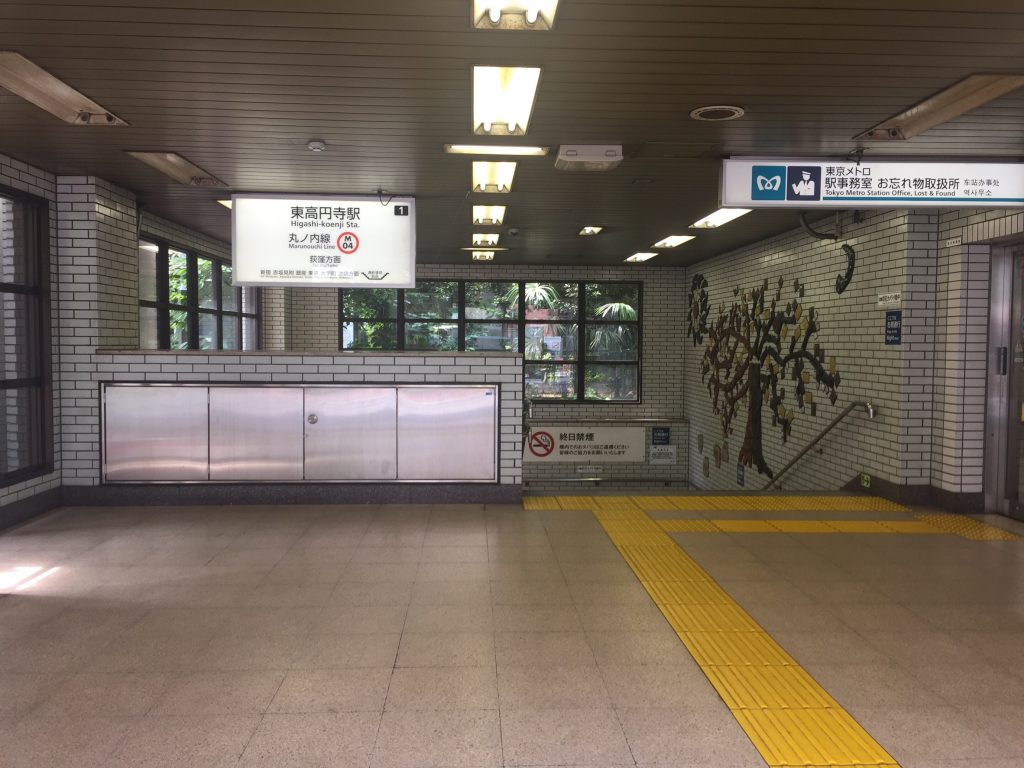 Half day plan:Za Koenji B1(2-1-2, Koenji-kita, Suginami, Tokyo)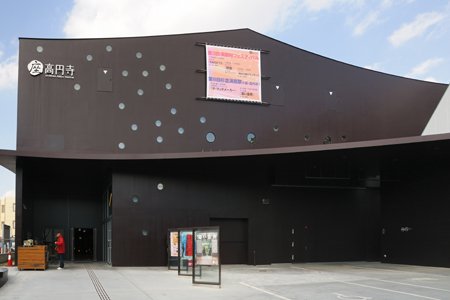 Date:
2017/8/26 (Sat.)
1 day plan:10:45~20:00
Half day plan:14:45~20:00
The Ren (group) will start as the second group in the central street stage.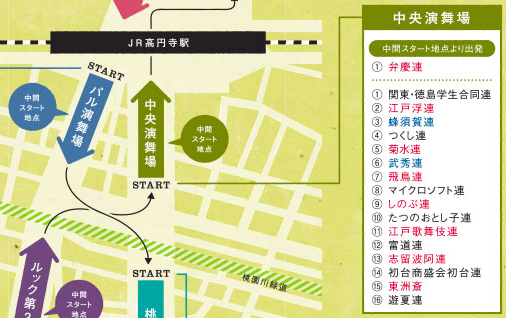 2017/8/27 (Sun.)
1 day plan:10:45~20:00
Half day plan:14:45~20:00
The Ren (group) will start as the fifth group in the Junjo street stage.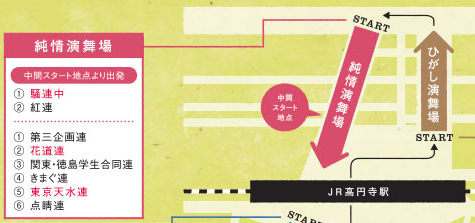 Language:
Japanese, Chinese, English
Please bring:
t-shirt, sneaker, towel, bottled water, rain coat
Please do not bring:
selfie stick, drone, large baggage, or other belongings
Fee(50 people only a day):
– 1 day plan: ¥12,960(tax inc.)/person
– Half day plan: ¥10,800(tax inc.)/person
– 2 meal boxes: ¥2,000(tax inc.)/person (only for 1 day plan)
Included:
– Chinese and English guidance
– Workshop of Awaodori dance (male dancer)
– Dance experience with the ren
– Wear the happi and hachimaki(Japanese hand towel) for Japanese festival
– Limited seats only for foreign visitors(1 seat/person)
– Ticket for Awaodori Stage performance(only for 1 day plan)
Do not included:
– Towel, rain coat or umbrella
– Clothes
– Locker
– Personal purchase
– Transportation
– Other not in the included list
Rules:
– Follow the instructions of staff and security personnel at all times.
– Smoking is prohibited at the Koenji Awaodori and the local area. Please use the designated smoking areas located around the festival.
– Please enjoy the festival without inhibiting the local stores and their ability to conduct business.
– Placing plastic sheets or other items to secure space on the road is prohibited.
– During the festival, do not enter the dance areas, after dance experience.
– Please take all garbage with you – a clean festival is everyone's responsibility.
– Alchol is stricktly prohibited before and during the dance experience
Reminder:
– In case of bad weather conditions (typhoons, storms or snow) this trip could be cancelled. You will be informed of the cancellation a day before departure.
– Patients of following diseases are not recommended to participate this tour:hypertension,heart disease,acrophobia,asthma,epilepsy,pregnant woman
– Adults should accompany children at all times to prevent from danger
Cancel policy: (In principle, you are not able to cancel after payment)
– 1 week before 50%
– 1 week ~ 2 days before 80%
– 1 day before ~ the day 100%
Organizer:Association for Promotion of Tokyo Koenji Awaodori


Contact:Breathe TOKYO – 東京深呼吸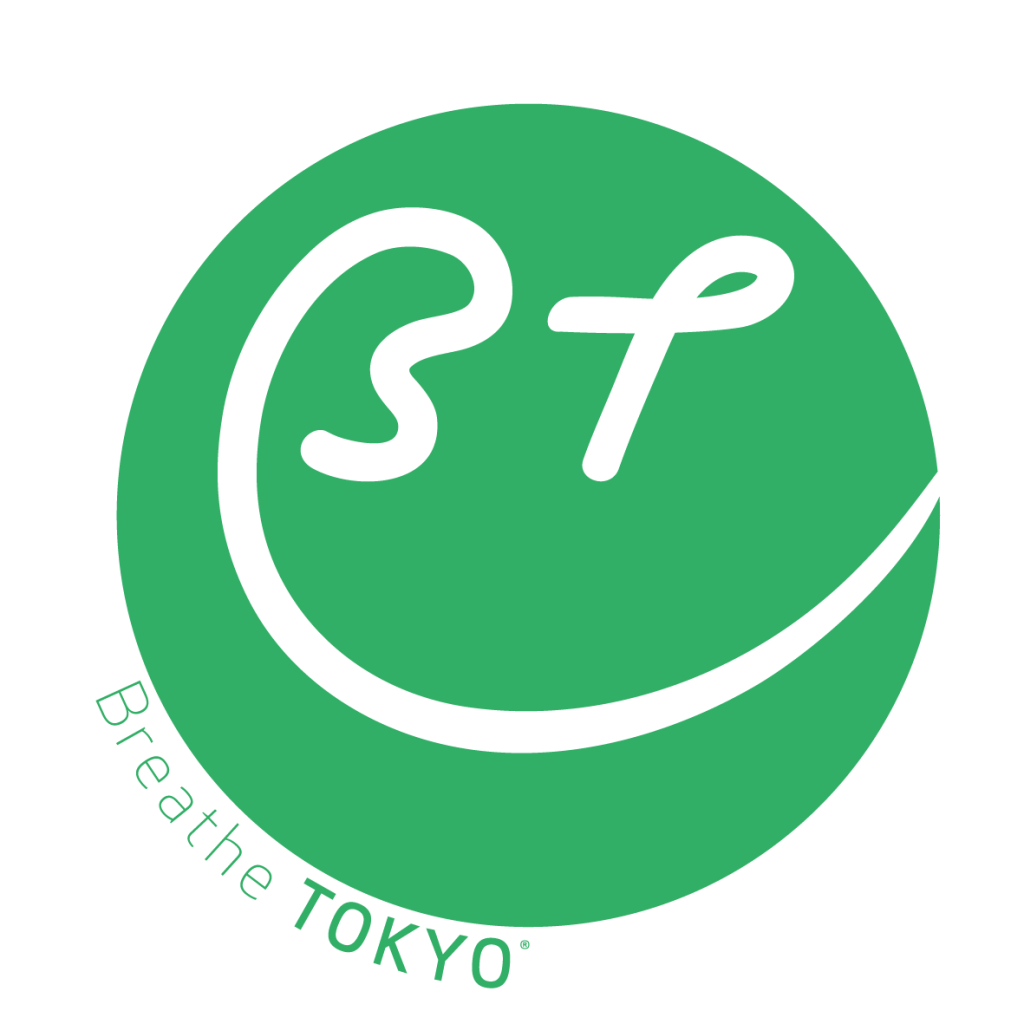 If you have any question please contact Breathe TOKYO
info@breathetokyo.jp