This Summer, let's start an independent research with your child in the most desirable city to live of Japan!
Breathe TOKYO introduces Japan local experiences of SPORTS & FOOD & CULTURE to friends from Taiwan, Hong Kong and other Chinese-speaking communities.
For the first time ever, we open a new perspective from Yamanashi to let you enjoy the beauty of Mt.Fuji and explore brand new camping experiences all in once.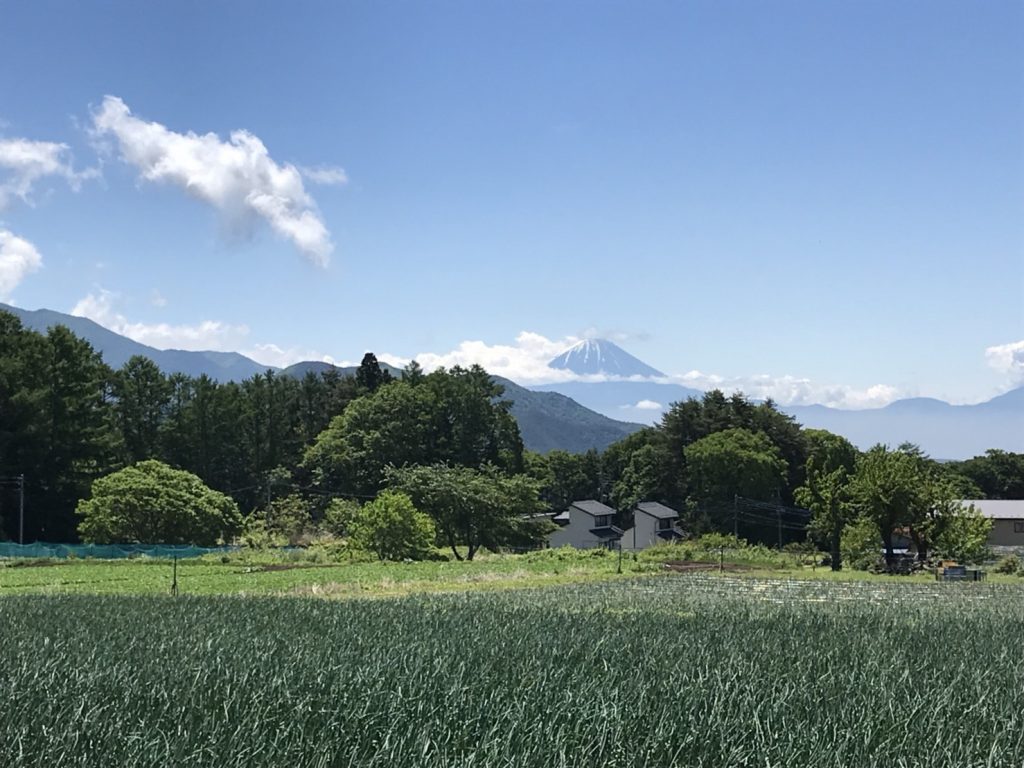 ◇What is independent research?◇
During summer vacation, Japanese students in Elementary and Junior High Schools need to complete an independent research assignment before the semester starts. Students are free to choose any kind of research topics in any field. For example, observing plant growth while going back to the countryside, making a drawing diary of summer tour, or starting an investigation of the everyday life.
They discover and note down the findings, and make it into a report to present in class.
Without the restrictions from school, Breathe TOKYO believes it will not only be a great summertime with kids, but also a refreshing exploration time for adult.
Enjoy the best of camping in the organic farm surrounded by glorious mountain views!
Yamanashi Hokuto, nestled in the highland at over 1,200m in elevation with views of Yatsugatake Mountains, Minami Alpsit and Fuji Mountain, used to be one of the most famous summer resorts to escape from the summer heat in Japan.
In 2018, blessed with the majestic mountains, mineral-rich mountain spring water and the good surroundings of it, Hokuto is voted as the most desirable city to live in Japan.
Then, what's the specialty of our events?
Follow the master of independent research here. Open your five senses and feel the nature in a brand new way!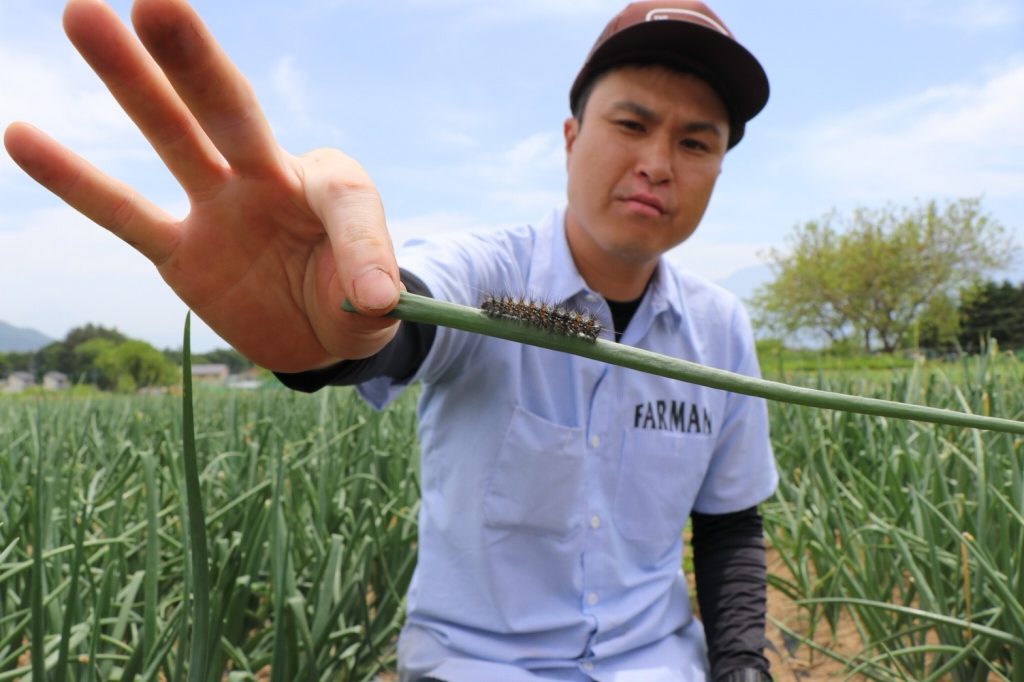 ▲ Master of independent research in Yatsugatake
INOUE NOUKO
Mr. INOUE, a skateboard lover, is also an enthusiastic "Organic Agriculture Preacher". His interest in agriculture has been evoked after a trip to Oregon (USA) during his high school period.
Afterward, he devoted himself to the operation of Organic JAS farm, and moved from Saitama to Hokuto, the place where "INOUE Farm" is located now.
Every year, more than 1,000 of students visits "INOUE Farm" for field trip and agriculture experiences. He gets along well with kids so easily that people always see him as "the king of children".
For our 3 Days 2 Nights camp, Mr. INOUE prepared a currently fallow onion field as our campsite, which will be a perfect place for the independent research for both adult & child.

▲ 

Organic JAS Farm harvest experience
Hands-on harvest experiences in Organic JAS (Japanese Agricultural Standard) Farm, which only 0.2 percent of total farmers in Japan have acquired the certification.
Let's discover the unknown world of fresh organic crops, and absorb the knowledge and nutrition of it through experiential learning!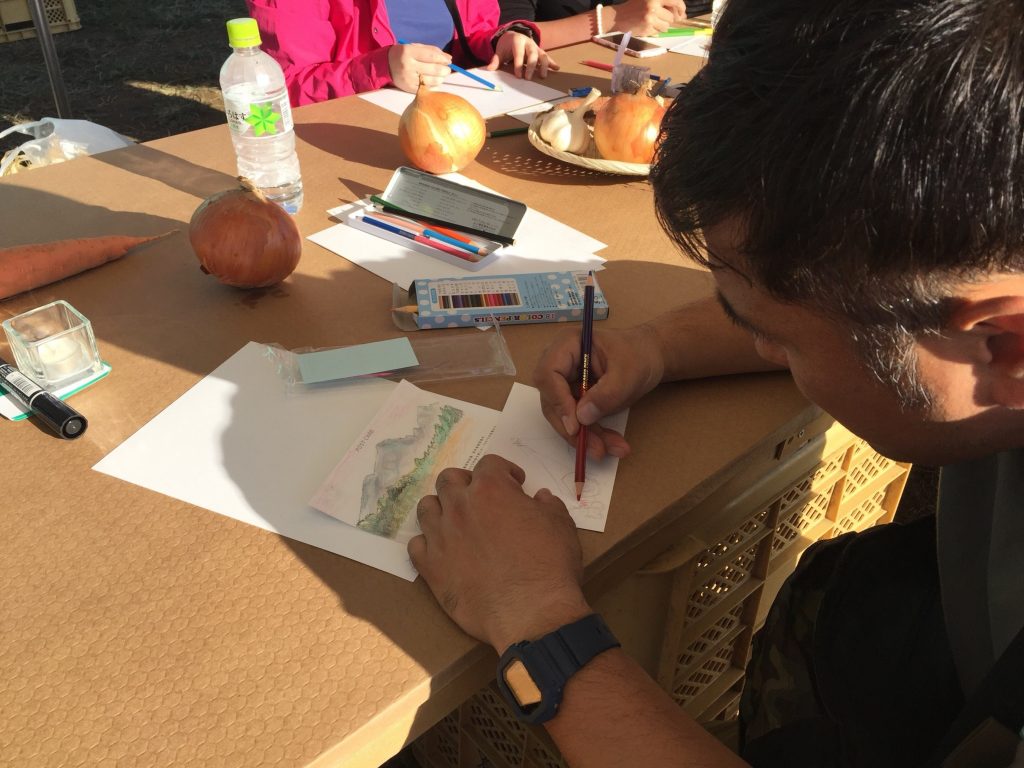 ▲ Nature sensory play – Hand drawn cards
Put down your phone, tablet or game console. Open your five senses and immerse yourself in nature.
Paint down the colors and shapes you perceive from the surroundings, and make it a one-of-the kind card that record this special experiences and feelings.

▲ French Starry Night Outdoor Dining
This time, we are honored to have Suzuki Shinsaku with us, a experienced chef who had been working with the "French cuisine genius" :Ueki Masahito for long years.
Let's enjoy the perfect combination of French and Japanese fusion cuisine, and have a feast on those high quality selections of organic local foods under starry sky.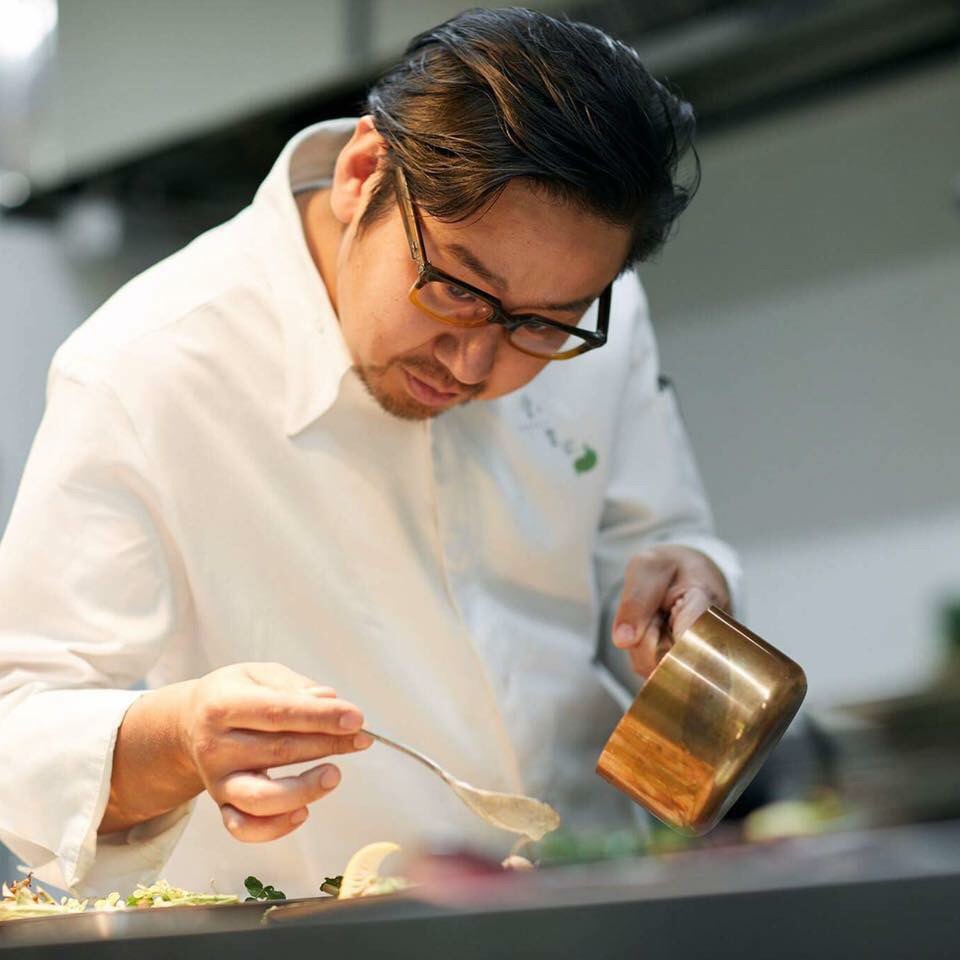 Suzuki Shinsaku Chef
For fresher ingredients, he uproots his family and restaurant "Aitoibukuro" from Tokyo to Hokuto, and renovates a 170 years old traditional house into a fusion style French restaurant.
The dishes use Yatsugatake seasonal ingredients and the mineral water from Hokuto, which is considered one of Japan's 100 most exceptional sources of water. He learned the skills of picking fungi, mountain vegetables and hunting sweetfish from the farmers and hunters in Yatsugatake, and he even obtained a hunting license because of this.
With a thankful heart to nature and a playful mind to discover the possibility of food, he will definitely pamper your taste buds with the best of the best.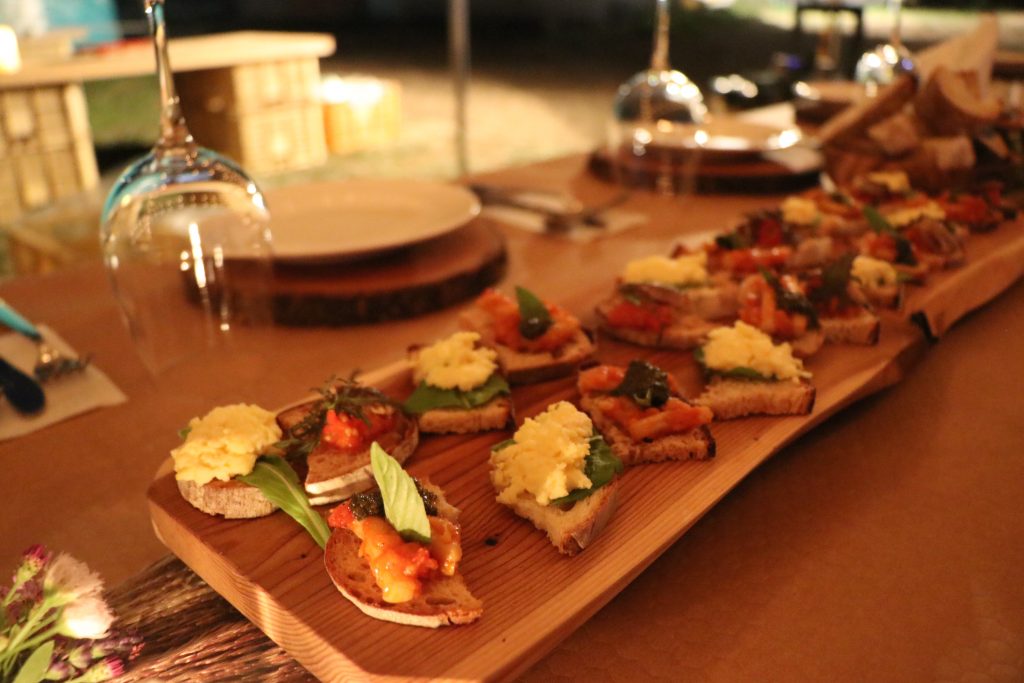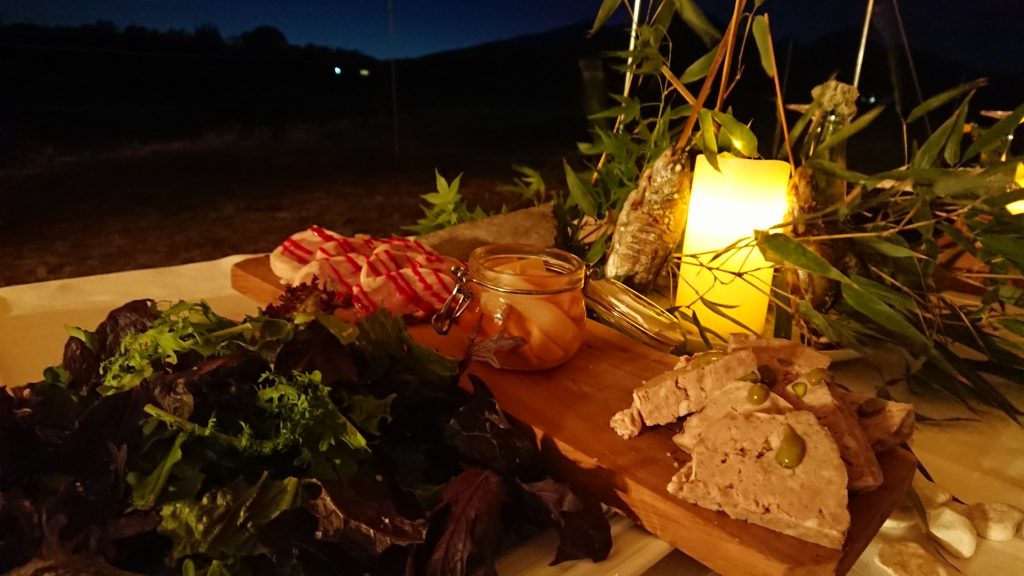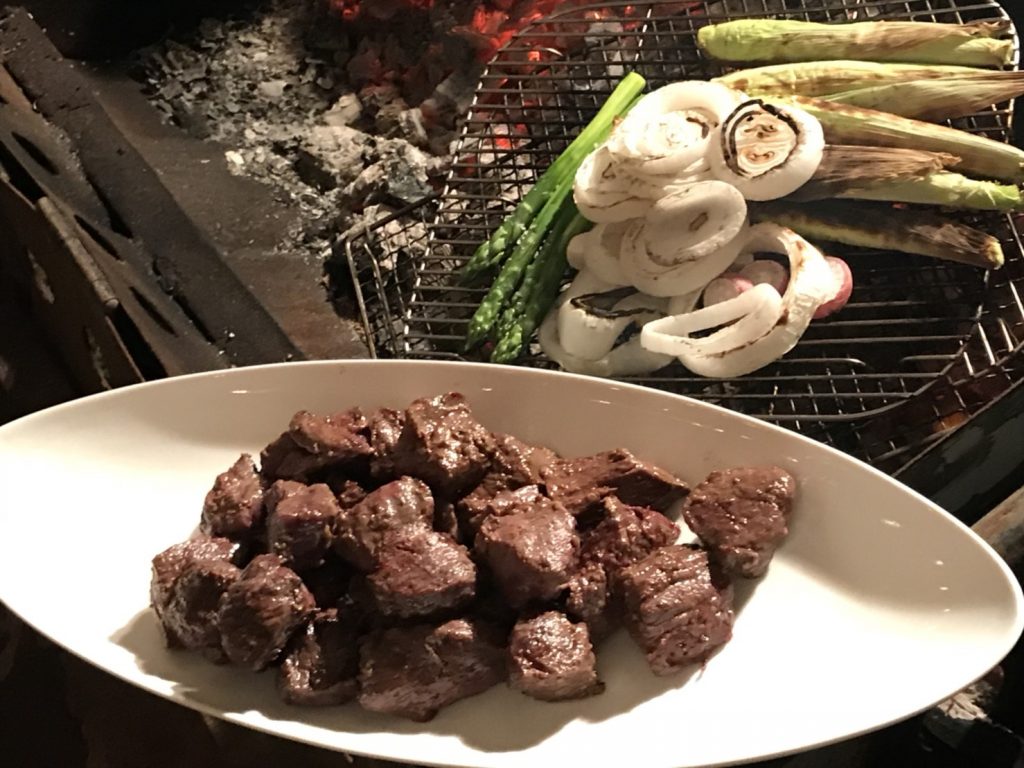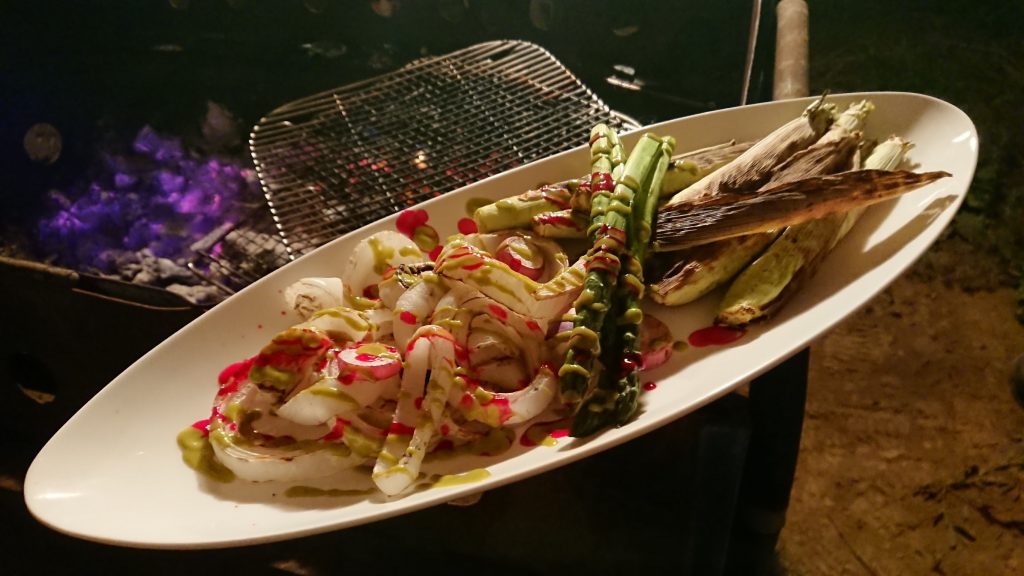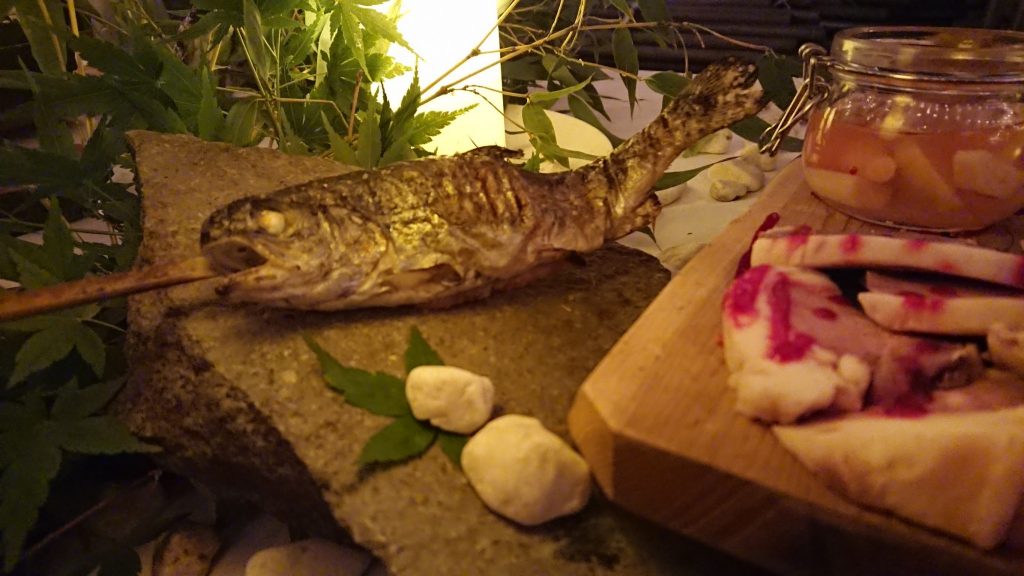 ▲ Yatsugatake Brewery field trip
Yamanashi Yatsugatake is blessed with mineral-rich mountain spring water. By taking the advantage of it, excellent beer, rice and environment here are also well known in Japan. However, what is the exact process and secret of making an excellent beer?
This time, we are visiting the representative sake cellar in Yatsugatake: Sake-Shichiken, for our field trip. Then heading to UCHU Beer, a Micro-Brewery, which has becoming a mainstream in Japan nowadays.
During the tour, we are able to hear the sharing of how these "Uchu(Universe) farmer" start from zero, to know what's the struggle and the key from cultivating hops to establishing a brewery, and of course, to enjoy the unique beer of Yamanashi Yatsugatake brewed by them!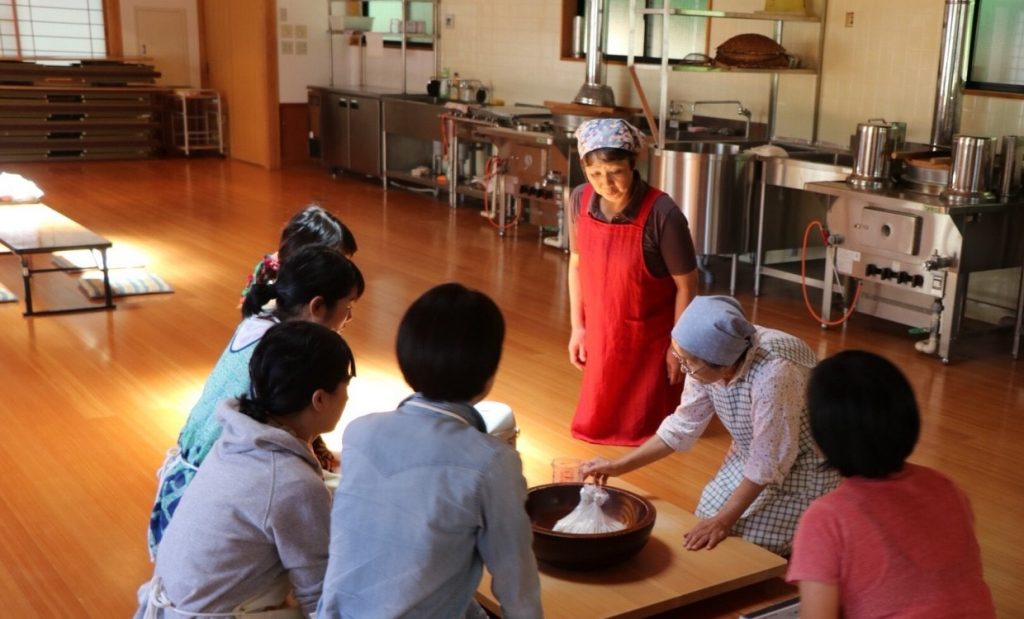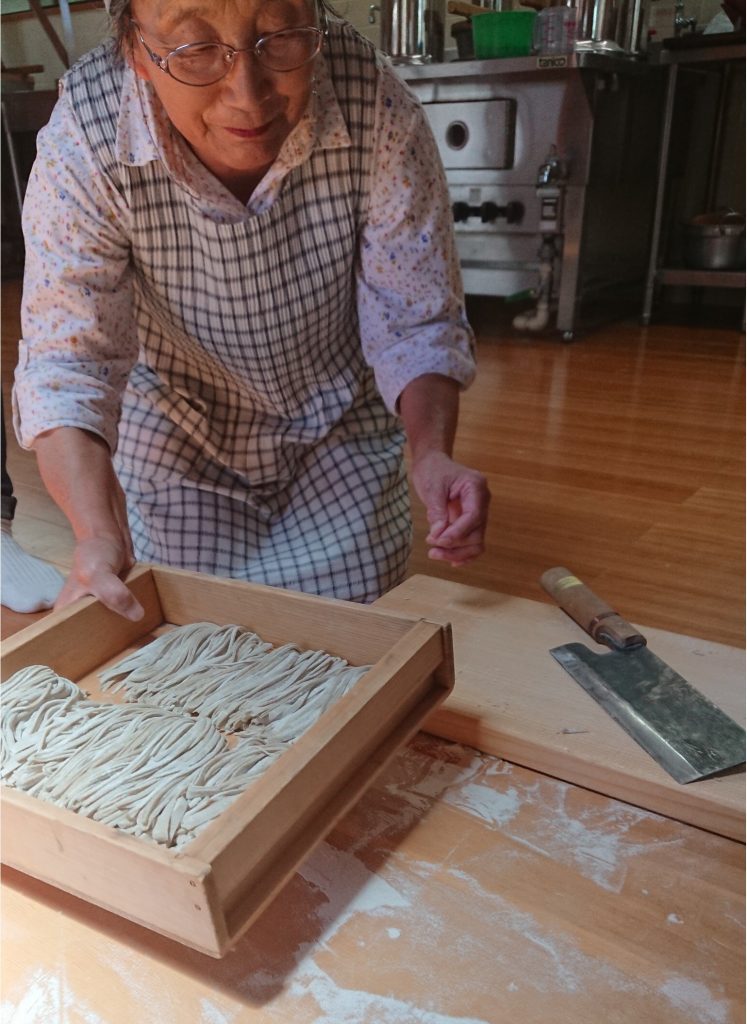 ▲ 

Buckwheat noodles (soba) making workshop
In Buckwheat noodles (soba) Dojo, these experienced soba masters make soba from growing buckwheat to rolling dough everyday. And now, it is your turn to be trained!
From mixing, rolling to cutting, parents and children can experience the whole process of soba making. Throughout the experience, you can learned the key of thankfulness to nature, the attitude of Japanese "Syokunin", and for sure the satisfaction of enjoying your hand-made soba with delicious fried tempura.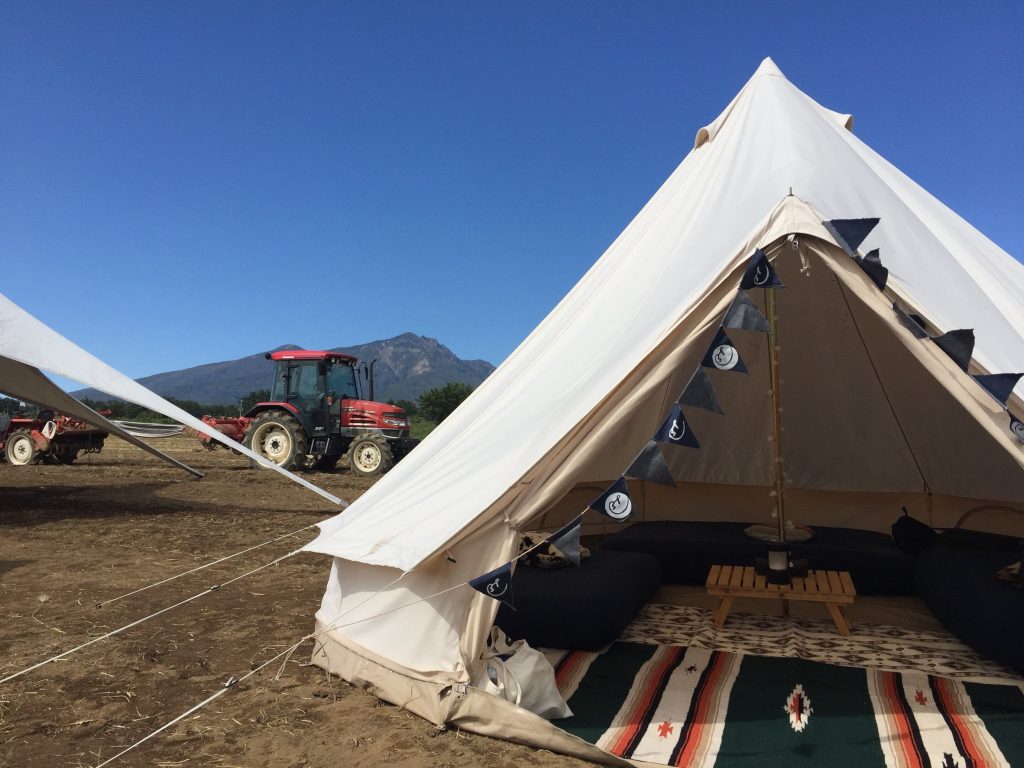 ▲ For camping aboard, no more worries about transportation and gear
When it comes to Camping, the preparation and the setting of it always takes a lot of efforts, not to mention how exhausted it is when you need to pack them all back.
But join Breathe TOKYO camp, you don't need to rough it anymore. All you need to do is to prepare your personal belonging, and come to meet up with us at JR Kobuchizawa Station.
Not only the transportation from station to campsite, but everything you need for camping during this 3 Days 2 Nights will be all set for you to put your feet up.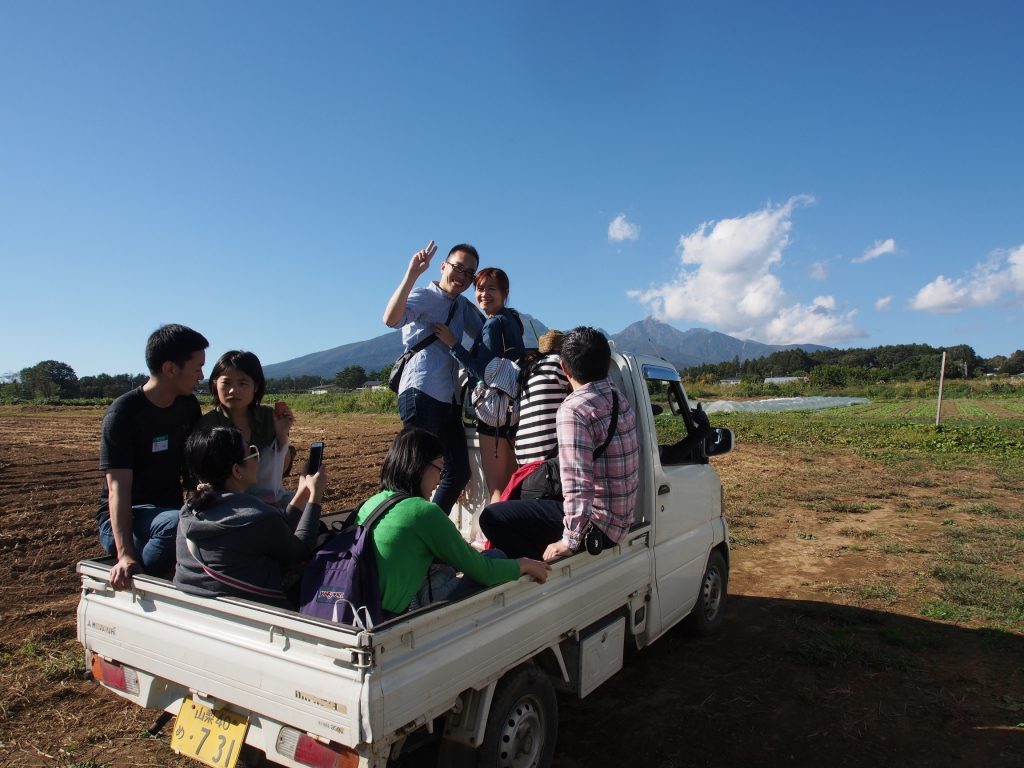 ▲ For deep cultural experiences, no more worries about language boundary
Mr. INOUE, the master of independent research in Yatsugatake, will lead everyone to discover the natural surrounding in INOUE Farm. Our experienced camp helper will also help on translation and accompany every camper during these 3 days.
For meals, we provide finger licking camping dishes in the use of Hokuto Yatsugatake local ingredients. At night, Shinsaku Suzuki Chef will also pamper us with French Starry Night Outdoor Dining at our campsite.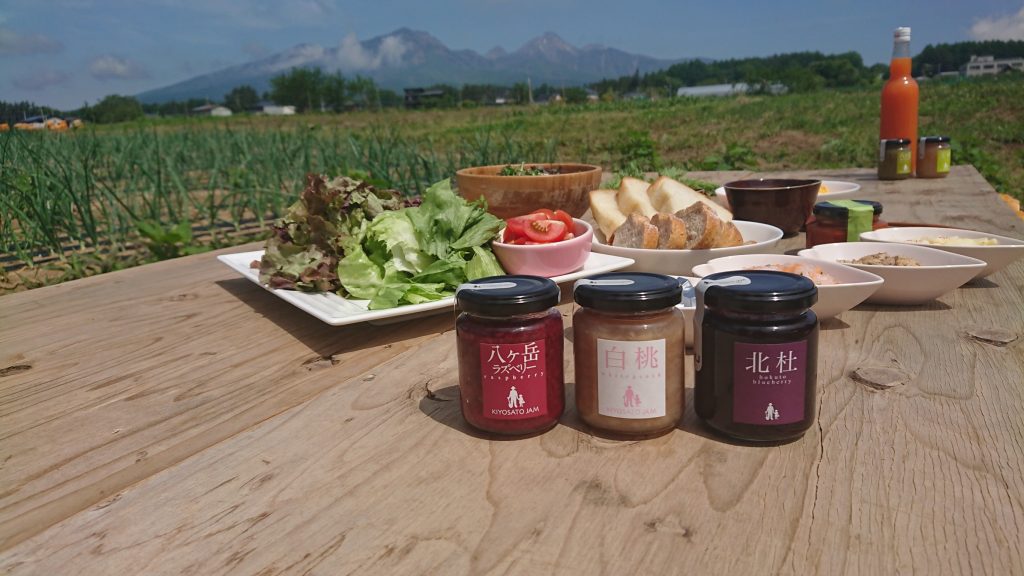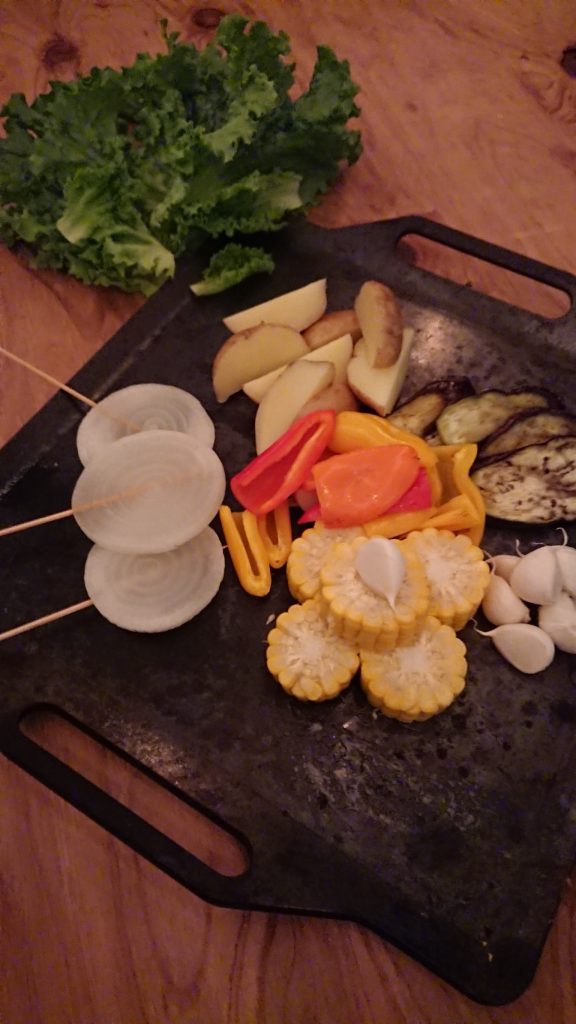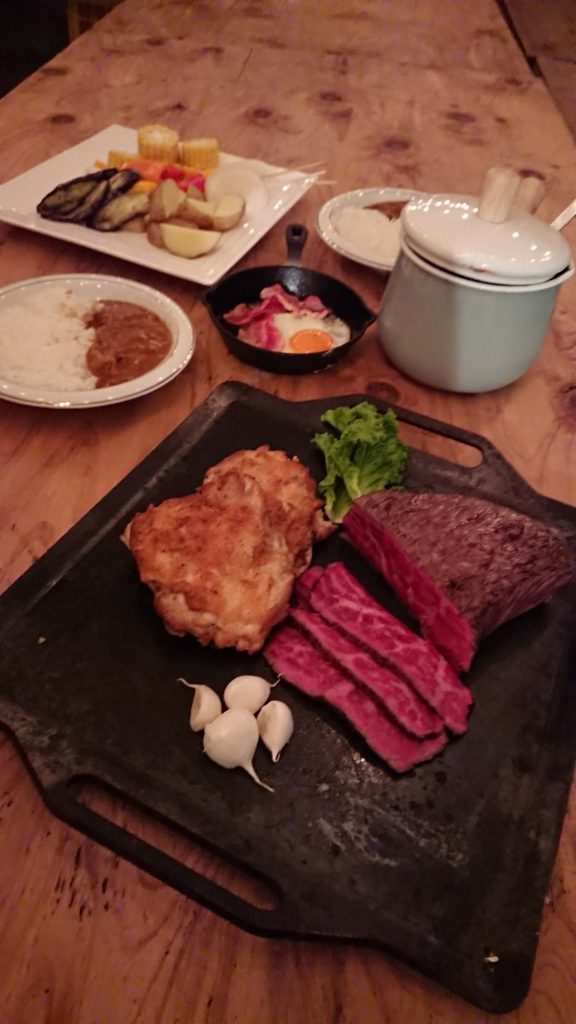 ▲ Local cultural experience: Refresh yourself in Onsen
Before dinner, your will have time to wash out all the tiredness in Japanese Onsen.
Let's elevate normal bathing into a enjoyable cultural relaxation!

【2018 SUMMER Jul.-Sep. only!】Breathe TOKYO Yamanashi Yatsugatake Organic Farm Camp 2018_Independent research experience for adult & child
Camping tour form July to September
A course(Monday to Wednesday)  or B course(Friday to Sunday)
【Availability in July】
7/13-15(Fri.-Sun.) | 7/16-18(Mon.-Wed.)
7/20-22(Fri.-Sun.) | 7/30-8/1(Mon.-Wed.)
【Availability in August】
8/3-5(Fri.-Sun.) | 8/6-8(Mon.-Wed.) | 8/10-12(Fri.-Sun.)
8/13-15(Mon.-Wed.) | 8/17-19(Fri.-Sun.) | 8/20-22(Mon.-Wed.)
8/24-26(Fri.-Sun.) | 8/27-29(Mon.-Wed.) |
8/31-9/2(Fri.-Sun.)
【Availability in September】
9/7-9/9(Fri.-Sun.) | 9/14-16(Fri.-Sun.) | 9/17-19(Mon.-Wed.)
9/21-23(Fri.-Sun.) | 9/28-30(Fri.-Sun.)
Meeting point: JR Kobuchizawa Station (11:20)
Dismissing point: JR Kobuchizawa Station
《Experience fee》
Adult 66,000 JPY tax included
Children(age3~12)55,000JPY tax included
Infants(age1~2), 44,000JPY tax included
* For safety concern, children under 3 years old are not recommended to participate.
The camp will be hosted under a completely natural environment. For those who bring infants and children between 1~3 years old, please take care of them and keep them safe during the camp.
Camp departure with minimum 8 people; 

Group (of 16 or more) may have private reservation.
If your group is less than 8 people in total, please contact us for group combination.
Due to the limited availability of each session, please contact us for reservation in advanced.
※ Attention:
For the convenience of other campers, if your group is combining with others, please do not cancel or reschedule the reservation in the last minutes after payment.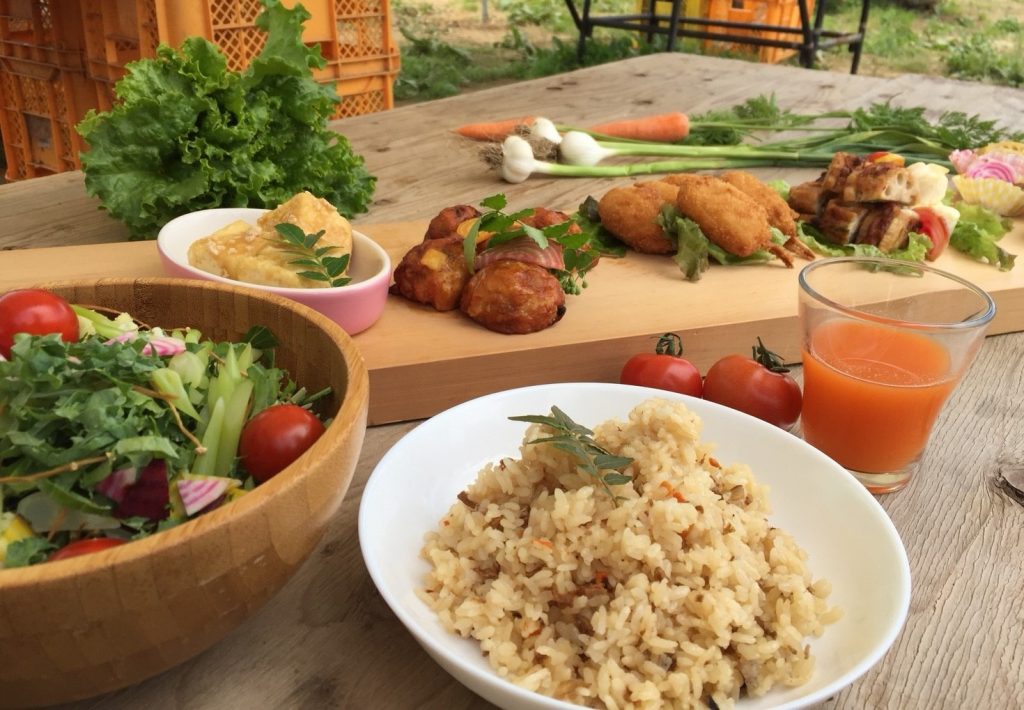 《 Included 》
6 meals(Day1 lunch,dinner,Day2 breakfast, lunch, dinner, Day3 breakfast)
Camping basic equipment
(Luxury tents,sleeping bag,living room,sofa,hammock,)
BreathTOKYO cultural events
Chinese/English translation
Parking lot
Onsen (Public Bath) ticket
Free Chauffeur service (from campsite to hot spring)
Cleaning fee
Tax
《 
Not included 
》
Transportation between JR Kobuchizawa Station (meeting point & dismissing point)
Alcoholic beverages
Personal towels (For Onsen)
Personal consumption
Rain gear
Warm clothing(Temperature changes greatly between day and night)
Airline tickets
Transportation, meals and accommodation before or after camp
《 How to register 》
Press on "Start planning" at the end of the page
If children are participating, please add on the age of them.
Please choose the camp session starts from Monday or Friday.
After submitting the form, we will contact you for scheduling and further information /reservation by email (info@breathetokyo.jp).
※Reservation will be made successfully only after payment confirmation.
《 

How to pay 

》
We will send out online invoice by "square" system after receiving camper name list. Please follow the steps written in the link to make the payment by credit card.

《 
Campsite Facilities 
》
【About Tents】
・ Luxuy SIBLEY tent:5m in diameter.
・ Belgium Canvas Camp StarShade
・ Double size air mattress.
・ Germany made cotton hammock.
・ 1 tent for 4 people(2 Double size air mattresses)
※1 tent for 2 people, you need to pay an additional cost 15,000JPY tax included for each person.
※1 tent for 1 people, you need to pay an additional cost 30,000JPY tax included for each person.
【About facility】
・Washroom near by camp area. It`s clean and convenience.
・WiFi:No
・Charge:Yes
◆◆◆ Caution ◆◆◆
【 Camp Policies & Procedures 】
•  If campers are less than 8 people in a session, we will send out notification email before 5 days for cancelation.
•  Campers must be over 3 years old. For security reasons, we do not recommend infant child who is under 3 years old. The experience fee for the infant between age from 1 to under 3 years old is 44,000 JPY / person.
•  Parents should always be with their children to avoid dangers. It's also a good chance to improve parent-child relationship.
•  We do not recommend camp participation of those who have symptoms of any of the followings: High blood pressure, heart disease, acrophobia, asthma, epilepsy, pregnant.
•  Any dietary restrictions or food allergies must inform us beforehand. The vegan diet is not covered at camp, but we can adjust it slightly on site.
•  The picture is for reference purposes only, the ingredients change in accordance with the season.
•  Due to the huge temperature difference between day and night in the mountain, please bring warm clothes with you. (Campsite is at around 1,100 ft elevation, therefore the temperatures will be lower 5~10 degrees than the forecast told in the valley cities)
•  Please wear running shoes or flats toprevent slipping or tripping in the campsite.
•  Insects are part of outdoor life in our campsite of Mt.Fuji. Please bring anti-itch cream and other medication according to personal condition.
•  Please bring sunscreen and other personal care product to prevent sunburn.
•  The legal drinking age in Japan is 20, every camper should be obedient to the law. We reserve the right to terminate legal offender's participation.
•  Besides all of the above-mentioned examples, if camper keep taking any dangerous action and do not listen to repeated advice, we reserve the right to terminate one's participation without refund.
•   Please note that schedule, activities and meals are subject to change or cancel without prior notice due to inclement weather and other items in mountain camp. And it will be not refundable.
•   BreatheTOKYO reserves the right of cancelation if the campsite has been damaged by force majeure (including typhoon, earthquake, storm or other natural disaster).
•   No fireworks or any other kind of fire ignition activities allowed in campsite. Smoking permitted in designated smoking areas only.
•   No cats, dogs or other pet allowed, except guide dogs.
•   Camper is liable to compensation for any damage caused by the deliberate, negligent or reckless act to facilities or property of campsite. Representative of the camper's group shall take several and joint liabilities with camper.
•   Once the reservation succeed, it will be non-endorsable, non-transferable and forbidden for any other profitable behavior. We reserve the right of cancelation and  forfeiture of deposits if the occasion above occurs.
•  Applicant will be the representative of reservation group, and is mainly in charge of the communication with BreatheTOKYO. If the representative who does not check in on the first day of camp, we will follow the rule above.
•  To ensure the rights and safety of campers, visitor without registered are not allowed joining.
•  BreatheTOKYO is entitled to refuse or suspend any media interview shooting, aerial shooting or any social media report post on print or internet without approval.
•  We reserve the right to modify, to suspend, and/or to withdraw any violator's  right of registering and participent in the future.
•  If there's any unaccomplished matter in this application policies. We reserve the right to modify, to insert, and/or to withdraw any part of the rules specified herein.
•  The sockets in campsite only provide for 3C equipment such as cellphone, laptop, camera, WIFI router, handheld game console or portable charger. Please inform us if there is other electronic equipment need to be charged, or camper shall pay compensation for any damage or accident.
【 Manners in tent 】
•  Please take off your shoes outside, and leave them in the shoe rack inside the tent while getting in.
•  Please keep air circulation in the tent and avoid any fire ignition activities.
•  Every tent have soft drinks like water and juice. Please feel free to let us know if you need any supplies.
•   For the comfort of next camper, please put your garbage in the trashcan inside your tent. If the waste or trash generates odor, please packed it with garbage bags and throw it into the trashcan outside the tent.
•   Please feel free to ask us if there is any question about the usage of sleeping bag.
•   In rainy days, please place your items in the middle of the tent to avoid getting wet from condensation.
•   If the tents or sleeping bags are defaced because of camper (for example, drink spills, vomiting or bedwetting). Each tent will be charged cleaning fee according to the dirtiness or shall pay full compensation according to the price.
•   If the furniture or bedding are damaged or loss because of camper. He/she will be obligated to pay compensation according to the price.
◆◆◆ FAQ ◆◆◆
【 Transportation 】
Meeting point: JR Kobuchizawa Station (11:20)
Dismissing point: JR Kobuchizawa Station
*From Tokyo to meeting point:
It will takes 130 minutes by taking JR-Super Azusa(あずさ号)(to Matsumoto) from JR
Shinjuku Station to JR Kobuchizawa Station.
【Cancelation policy】
1.Cancellation fee
~ 60days         10%
59~30days     30%
29~14days     50%
13~0days     100%
* In case of thunder, strong winds, earthquakes, typhoons and other force majeure factors, for safety reasons, the camping experience must be terminated. And we will contact you at 12:00 noon before the start of the camping day.
* Camper is liable to the processing fee for refund.